Exploring Tim Yanke's Dragonflies and Doodles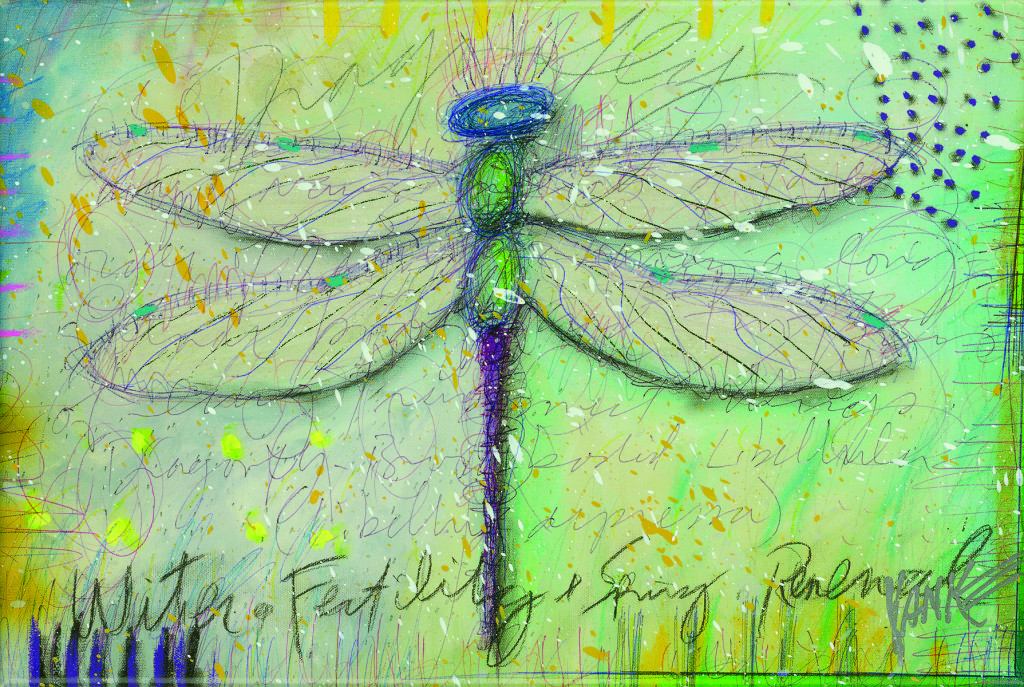 Following Tim Yanke's solo show during Park West Gallery's "Detroit's Finest" exhibition series, learn from the artist what inspires two of his most iconic images: the dragonfly and the "Yanke Doodle."
Yanke's grandparents were from Germany and Italy, making him second-generation. He credits this German-Italian heritage for his family's love of antiques, as he would travel with his parents to auctions and estate sales around the Midwest on the hunt for treasures. In particular, they sought out leaded glass, windows and lamps.
On one of these trips, Yanke's mother acquired a Tiffany leaded antique lamp with a dragonfly design on it, which Yanke recalls found a place in his family's living room. The lamp left a lasting impression on the young Yanke, who recalls his mother always telling him and his five siblings to stay away from the dragonfly lamp. He now creates his dragonfly artwork in his mother's honor.
"All of a sudden I decided to paint this [dragonfly], and it's quite a departure from everything I was painting prior," he says. "Well, I paint with my emotion and I paint about things that are dear to me."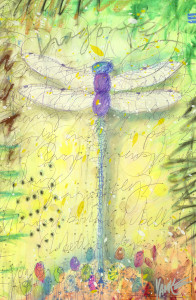 The dragonfly invokes nostalgia in Yanke, and when used in his paintings, causes the viewer to have their own recollections or other special memories associated with dragonflies. He says it also has connections with his Neo-West style, as Native Americans saw the dragonfly as a symbol of water, fertility, renewal and spring.
Yanke's dragonfly has since appeared in many forms, including as a piece of handmade jewelry and in modern lenticular art where the dragonfly flutters its wings. What collectors may not realize, though, is that they are bringing the dragonfly full circle when hanging it in their homes.
"They hang something of yours that you created in their home," Yanke says. "This is where life and death and happiness and sadness, all these things go on in their homes, and it's such a sacred spot for so many people, and yet, they hang something of yours in there. Are you kidding me? That's fantastic."
Yanke Doodles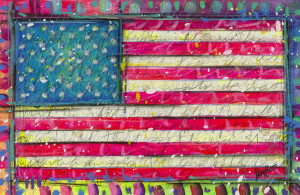 Moving from nostalgia to nationalism, the "Yanke Doodle" series is the artist's way of expressing the patriotism and diversity of America. The name is a play on the well-known "Yankee Doodle" song, and about 80 percent of these works of art feature the U.S. flag in colors aside from the traditional red, white and blue.
"The 'Yanke Doodle' flag that seems to be one of my – pardon the pun – flagships, was based on the fact that for the longest time I did it in non-traditional colors," Yanke says. "The non-traditional colors were to represent the flags of the nations that people brought from all around the world to the United States."
Like the dragonfly, Yanke is honored by having his "Yanke Doodle" works in people's homes, and he has helped make houses into homes by donating Yanke Doodles to Habitat for Humanity of Oakland County homeowners.
With Park West Gallery artwork on more than 100 cruise ships around the world, Yanke has collectors on six of the seven continents, demonstrating the connection people have with his art. During the opening of his exhibition for "Detroit's Finest," he jokingly suggested a Yanke Doodle be delivered to research facilities in Antarctica.
"Let's send them a flag, they could use an American flag out there," he says.